Support in your community >
Testimonials | Faces of Hope >
Our Stories
In the fall of 1998 at the age of 25 and newly married, I delivered our first baby, a healthy beautiful girl. Not long after her birth, I noticed my hands would swell when out walking or exercising and occasionally turn blue. I was concerned so I went to the doctor and received my initial diagnosis – Raynaud's phenomenon.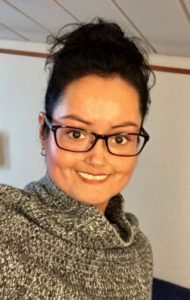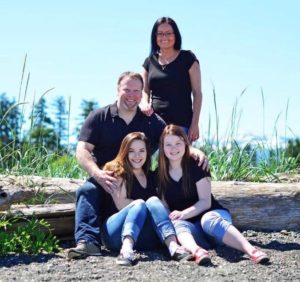 I was told that Raynaud's was not uncommon, which I found interesting but not too worrisome. A couple of years later, while on vacation in Mexico, I noticed that the nice dark tan I usually get included a shiny tightness on my chest that I had never seen before. As soon as we returned home I went to my family doctor who took one look at me and immediately referred me to a rheumatologist, who gave me the scary diagnosis of diffuse scleroderma.
I wondered, "What is scleroderma?"  Like most newly diagnosed people, I went on the internet to research the disease. Perhaps not the best idea! There was fear, panic, and sadness. I had no idea what this disease would do to my body or how long I was going to live. I saw the effects this horrible disease had on many people and thought to myself, "Is all of this going to happen to me?" All this info only escalated my fears. I soon realized I had to stop going online, refocus, find trusted information, and develop a positive support system. 
I was 28 and our daughter was almost 3. What did this diagnosis mean for me and my family? I worried about our little girl, my husband and my dream of adding one more baby to our family. Since I am an only child, I have always wanted two children, thinking that they could experience life together and always be there for each other.  On my next visit with the specialist we discussed this dream. Since I hadn't started treatment for my scleroderma, my husband and I decided I was healthy enough to try for another baby before my disease worsened.  In the winter of 2002 while being closely monitored by my doctors, I delivered our second healthy, beautiful girl. Finally, my first born had a sister. My family felt complete!
 The next several years passed with as much normalcy as I could hope for. I maintained a home and raised our girls while my husband worked. Although my body was changing and my energy was lacking some days, I was still able to enjoy my family, friends and work. When I was diagnosed I had been a hairdresser which was a super fun job. I met and worked with a lot of very cool people that I am still friends with today. Eventually my hands weren't able to perform like they once did so I had to change careers. I spent the next years working as an Aboriginal Education Assistant in elementary, middle and high school classrooms. What a wonderful opportunity! It was and still is my dream job. I am grateful that I was a part of a team that had such a great impact on our youth.
Presently my life looks a lot different. Scleroderma has attacked my lungs. I also experience many symptoms: telangiectasia on my face and chest which I try to hide with makeup, Raynaud's, tightened skin, finger ulcers that can hurt like crazy, reflux that limits when and what I can eat,  fatigue and aches and pains. Unfortunately, due to my lung fibrosis, I am being assessed for a lung transplant and no longer able to work. I take a handful of medicine daily and I exercise to try to stay as healthy and strong as possible. I go to the Scleroderma Clinic at St. Paul's Hospital in Vancouver for my routine checkups and tests. It's also where I connected with people that work with me and genuinely care about my health and future.
Some days are harder than others. Sometimes I have to listen to my body and just stay in bed all day. I do the best I can with what I have.  My worries about my family have shifted. One day I may not be able to contribute to the daily chores. My husband is wonderfully supportive, but I know it is difficult for him to have a wife that has health issues and limitations. I am thankful that I have seen our girls grow up through their school years. I now hope to see them marry and, hopefully, one day there will be grandchildren to spoil.
For a long time I was silent about my disease, just living with it the best I could, but no longer. I spread the word about scleroderma. I talk to family and friends about the challenges I face and allow them to help me on my bad days. I educate myself about this disease and I do what I can to promote awareness. I don't know what the future holds but I do know I have a wonderful supportive family and great friends that will help me through it. I try hard to find something to enjoy and to be thankful for – every day!
"SCLERO WHAT ………./!?"
I remember very well the day I had met with my local rheumatologist at the hospital for a follow up exam after several months of tests.  He said, "Jen I believe you have an autoimmune disease called Scleroderma."
" Ok." I said.  " What does the treatment plan look like?"  I was familiar with autoimmune diseases as they ran in my family.  I had also been living with and managing hypothyroidism for many years.  I figured like other conditions there must be a reasonable treatment option.  No problem.  I've got this.  Little did I know the storm had just began and I was about to enter the fight of my life.
Let's rewind the clock back to 45 years prior to my diagnosis of Systemic Diffuse Scleroderma in 2016.  I  was a competitive, national calibre athlete and held provincial records x-country running, skiing, biathlon and track.  I had completed many half and full marathons.  My body was a fine oiled machine that was ready for all my physical challenges and dreams.  An average day for me consisted of a full working day, training for a race, teaching fitness classes and walking my dogs.  I worked for 25 years as a Community Inclusion Worker serving and supporting adults with disabilities, so I was no stranger to adversity and advocacy.   My life's mantra was all about compassion, integrity and empathy.  I knew that through all my experiences as an athlete and supporting others that everything was possible with determination and a positive attitude.
In 2012 after completing a half marathon I noticed that my feet became sore after my runs.  I chalked it up too many years of running on the pavement and likely arthritis.  I had also had a couple disks in my cervical  spine that had become problematic and required surgery.
 Fast forward to the spring of 2015.  I under went cervical spine fusion surgery at C 5-6 vertebrate.  I left the hospital with brand new titanium parts and an arduous recovery, but life was good.  Soon I would be back to work and, in a year, running again.   Six months post surgery on a beautiful news years eve day I went for a snow shoe with my dogs. I was so excited and had a lot to celebrate this year.  I noticed that my occasional episodes of one finger Primary Raynaud's had turned into all fingers on both hands after my snow shoe.  They were completely white and numb.  I thought it was probably related to my recent c-spine surgery.  Later that night I clearly remember waking up in the middle of the night with throbbing hands.  I woke up my partner and said, "There's something wrong with my hands." Eventually the pain subsided, and I fell back to sleep.  Later the next day my fingers turned black and blue.  I called the nurses hotline and she concluded that it was typical symptoms for frost bite, but I should see a doctor for follow up.
Within weeks after these noticing's my body began changing dramatically. My skin was turning purple and blotchy.  Both my fingers and feet started swelling.  Every step I took it felt as if I were walking on sharp j broken pieces of glass.  Fatigue and brain fog followed me around  the house like a haunted ghost.  I knew at this point something was seriously wrong.  I had made several appointments with my GP but was too weak to physically get there.  I had gone from running marathons to becoming short of breath walking up my basement stairs.  After seeing my doctor and many blood work tests later my antinuclear antibody (ANA) test came back positive.  My symptoms were not the result of my c-spine surgery or anything neurological, but my neurologist concluded I had the worst Raynaud's he'd seen in 30 years of practice.
So, this brings me back to the beginning of my story.  "SCLERO WHAT ?"   I knew from the reading I had done that 95% of patients with scleroderma have elevated ANA in their blood stream.  Was it true that I had Diffuse Scleroderma? Or was this all just a bad dream?  After leaving the hospital and receiving the diagnosis I drove around for hours trying to process all of this.  I came home that night and began the google search.  Everything I read about was frightening and predicted a five year survival rate.  I went to bed cried most of the night and repeated this cycle for two months.  How was I going to do this?  Who was I without my old life? Did I do something to bring on this disease?  Should I begin a bucket list and prepare myself for a five year death sentence?  I had fibrosis in the bottom of both lungs and had to come to terms with the fact that I would probably never run again.  This was by far the darkest time in my young life.  I was paralyzed with fear and knew little of what lay ahead of me.
About two months after my diagnosis I read a story about a young girl's journey with scleroderma.  Although her experiences and challenges were difficult to read she seemed to rise above the darkness and find meaning in her life with scleroderma . She had started a website supporting others fighting this disease.   I was inspired by her and had a sense of hopefulness again.   I knew in an instant that I had to turn my own personal journey of scleroderma around.  I began to read about an organization called Scleroderma BC.  I called the number on the website and had the pleasure of speaking with an incredible man.  He took time to listen to me and answer all my panicked questions. He shared information with me about scleroderma and connected me to an area reprehensive with Scleroderma BC in Kamloops.  He offered comforting words of support and compassion.  I suddenly realized I was not alone in this journey of scleroderma. There was a community out there who truly understood scleroderma and all it's prickly thorns.  My scleroderma journey changed that day and I am forever grateful for that conversation. I connected with the area reprehensive  in Kamloops.  She had been living with scleroderma for 30 plus years and really offered support in many ways.  It was wonderful to connect and have conversations about a disease that was so rare and complex.  I was also very fortunate to connect with two other ladies living with scleroderma through our mutual pharmacists.  We meet up regularly to support one another and have all become quite good friends.
I still had a lot to learn about this disease and embraced all the learning opportunities that came my way.  I attended the scleroderma BC annual conference and met up with so many wonderful people.  I went on later that year to the national conference in Calgary. I was very fortunate to meet more doctors who specialized in specific areas and treatments for scleroderma. I connected with a patient support group called SPIN (Scleroderma Patient Intervention Network) and enjoyed networking with the real scleroderma experts who lived with this disease everyday.   One of the highlights of the conference was having one of my dearest friends join and support me.  I couldn't be happier leaning into all these amazing opportunities and fresh perspectives.    At this point I knew that in my own journey it was important to give back to others newly diagnosed with scleroderma.  I wanted to shout out messages of remarkable  courage. To let others know that it was normal to feel what they were feeling and that the grieving process was very real.  To help others realize they were much stronger then they could ever imagine for fighting this disease.  Mostly, to take a deep breath in and fill your lungs with hope.  All these messages have  inspired me to become an area representative in my own community.  It was my turn to give back as others had generously had done for me. I have also  had an incredible opportunity to work alongside a dedicated team of researchers based out of UBC as a patient liaison for stem cell transplants for people living with scleroderma.  Although this opportunity was out of my comfort zone I realized the value we all had to offer one other despite our very different roles.
I have come to know that living with scleroderma is not for the faint hearted.  In fact, I have never met a braver group of true warriors in my entire life.  Words like pulmonary fibrosis, GERD, Raynaud's phenomenon,  acid reflux, renal crisis, skin thickening, calcinosis, hypertension, blood panel, right heart, tendon rubs, hemoglobin, dry eyes/mouth, anemia are just some of the words that occupy our conversations on an idle Tuesday.  What I also know is that there are words like courage, compassion, resiliency, strength, inspiration, empathy, hopeful, capable, determination and survival that propel us forward in our daily journeys with scleroderma.
Three years ago I wasn't sure what direction my life was headed after my scleroderma diagnosis  Fear clouded my spirit.  Hopefulness was just a flicker in a vast dark sky.  Today I am hopeful and stronger then I could ever imagine.  I won't pretend to say that I still don't worry about what lays ahead for me with scleroderma.  I still have days that challenge my soul and test my mental strength. But I know I am surrounded by and skilled and compassionate medical team.  A family who love and support me.  My four legged companions.  Friends that fill my cup with on the days I can't.  A community of brave Scleroderma warriors who have taught me everything I need to know in these unchartered waters of this rare disease called Scleroderma.  Lastly, my all time fav Rocky Balboa (lol)  This is not how I envisioned my life but none of us ever know how it will go.  I have some wise words from the late Gord Downie  on my fridge that inspire me every day and they go like this:  "We must embrace what we can not change."  We are all so much more then Scleroderma.
 I prove that to myself everyday by taking on new challenges the lite up my soul.  I may not be able to physically  run another marathon, but I hiked up to the top of Grizzly mountain at 3000ft elevation gain in Tombstone Territorial Park in the Yukon this past summer!  As we past other hikers I asked how the view was from the top.  They said; It's spectacular but you have to work for it."  It can be done.  Even with scleroderma.
Although we can not change our diagnosis we can change our perspectives in moving forward.  So if you have been thrown and unexpected scleroderma curve ball it is up to you to grab it grip it, grip it and throw it back as hard as you can.  Let gratitude lead let way.
"It is not our bodies that define us. It is our spirit that does."  Janie Sheperd
Jen Beckett
2019 October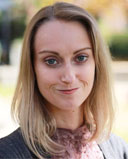 When Scleroderma Entered My Life
I was 19 when scleroderma hijacked my future goals. I spent a few years being angry with my body, grieving the future I had dreamed for myself, and feeling isolated, even when I was surrounded by people who loved me but could never truly grasp the degree to which my life was changing. It happened so quickly. I went from developing a pre-professional dance career to having limited capacity for sustained movement within a few weeks.
With a history of joint issues, I was easily misdiagnosed and treated for rheumatoid arthritis. The prescription cocktails I had tried, however, were not preventing the skin on my hands, arms, chest, and face from tightening. The chronic fatigue and pain were beyond any physical discomfort I had ever experienced before. After a few years of struggling to develop an effective treatment plan, I was accurately diagnosed with scleroderma and learned that the symptoms I had been experiencing in my extremities were typical of Raynaud's Syndrome. However, it would still be a few years before finding health care professionals willing to work with me and for me.   
Changing Perspective
No longer able to pursue dancing as a career, my attention shifted towards wanting to help others like myself find ways of moving without pain. The human body has always fascinated me, so I chose to study kinesiology. While beginning my undergraduate degree, I had begun to establish a community of health professionals that influenced my drive for a deeper understanding of what enables health and well-being. I experimented with holistic practices and found adaptations for my life style that helped me heal while still trying to find medications that would fix more problems than they created. When I located a rheumatologist, who included a holistic view of health into her practice, I finally established a complete "tool kit" for managing Scleroderma that included medications that were preventative.
My frustrations navigating the health care system, and the impact social inequalities have on accessing treatments, fueled my desire to break down barriers to well-being for others. At nearly the end of my Kinesiology degree I chose instead to complete a bachelor's degree in Health Sciences at Simon Fraser University with a minor in Political Sciences. I realized that, had I not found health professionals who had affordable services and who were willing to hear my perspective as a patient, the struggle to complete my post-secondary education would have been defeating. Regardless of your physical abilities, these milestone achievements should be accessible to everyone and advocacy seems like the best way to make that a reality. 
Directing My Desire to Do Something About It
Since discovering the Scleroderma Association of B.C. my quality of life has improved.  I have connected with a community of people that are resilient and have witnessed their power to accomplish amazing things together. Supporting Canadian research initiatives that aim to develop new diagnostic and treatment options, raising awareness within our communities, and sharing information with patients and their families that assist in improving well-being are goals we continue to achieve. Most importantly, there is a constantly growing network of support for those of us who are affected by this intimidating autoimmune disease.
It has taken a decade to come to terms with my physical limitations and the uncertainty of my future, but I've chosen to not let scleroderma control my life. I have recently been married, begun a new career, and started dancing again – all milestones I did not imagine would happen for me ten years ago. Scleroderma does not define who I am, but it does contribute to the perspective from which I see the world and function within it. Through my role within the Scleroderma Association of B.C., I will continue harnessing my experiences and knowledge to bring social awareness, justice, and support to our community.   
Tiasha Burch
February 2019
2019 update:
Happy to report, nothing has changed in the last year. People always ask, "how am I doing"? After a lot of thought, my response is "I can live with the day-to-day pain and still maintain my quality of life. So, life is good!"
In 2018, I started off the new year with one more medical issue added to the list!
I've now been diagnosed with Interstitial Lung Disease "ILD". Unfortunately, I have joined the thousands of patients with this very serious condition. The condensed version; it's scarring on the lungs; the skin is thickening. We'll see what the future brings… still want to cycle tour on our tandem. Worst case scenario, David has agreed to put a motor on the tandem!!!
I have now lived a year with rheumatoid arthritis, curled fingers, restricted movement in my wrists, severe calcinosis, ILD, Sjogren's, Raynaud's and acid reflux but the good news is with the regime of drugs, the pain is now manageable. I still haven't mastered grasping something in my palm or an easy way to grip a glass of wine! Can't anything ever be simple with Scleroderma! 
I'm ever so grateful for the love and support of my family and friends and still looking forward to the future of travelling and living life to its fullest!
As with many diseases, I'm fine one day and sick the next. Cold hands are a regular occurrence; "cold hands – warm heart". It was in 1992, while downhill skiing, that I noticed that my thumb had gone white. Concerned about potential frost bite, I consulted with my family doctor. She referred me to a specialist who, after a time, diagnosed me with Raynaud's Syndrome. I had never heard of it; "What is it?" A simple explanation is that the small blood vessels go "spastic", severely restricting the blood flow, therefore cooling and limiting the oxygen to the affected areas. The condition is most obvious at the extremities, fingers and toes, but also affects other parts of the body. The bad news was that if it became a severe condition, I could eventually lose my fingertips. Oh great!
Life continued on, but downhill skiing was definitely out. The activities of daily living trigger Raynaud's episodes; attacks cause my hands to turn white, purple, blue and then pink.
Unfortunately, my hands are in Raynaud's mode most of the time, but luckily my fingers do not develop open sores. The internal organs react to the lack of blood flow and cause a painful coldness to my core. I wear gloves indoors as well as outdoors. I have a heated vest, heat packs for my feet, and I soak in our hot tub before going to bed to warm my core so that I can go to sleep without being chilled. I have been prescribed Viagra, yes Viagra, to help shorten the episodes and maintain blood flow to my extremities. Always in the back of my mind is "will I lose my fingertips or worse?"
Moving forward to 1997, the constant swelling of my hands and shiny thick skin lead me to consult a rheumatologist. During the visit, I'm told "You have scleroderma". Shocked and dazed, I was not sure what questions to ask and not really taking in what I was being told: "Thick skin … hardness around the organs … nothing we can do … make you comfortable … know in about five years if you'll die… get really sick or just maintain the status quo … unfortunately there is no cure." The news was shocking and like most people these days, my husband and I searched scleroderma on the internet. The information about the disease was scary and depressing, with no light at the end of the tunnel. About that time there was "a made for television" movie about Bob Saget's sister who had scleroderma and died as a consequence. That was the image people saw when I told them about my diagnosis. Not a good outlook.
I'm not one to sit back and let things happen so I took charge. This disease was not going to consume my life or control me. My husband, David, and I sat down to discuss the future and agreed on committing to experiencing life and starting on our "bucket list" rather than waiting until retirement. At the top of our list was to experience travelling in different parts of the world by cycle touring on our tandem bicycle. Though I had lost strength and dexterity in my hands, I still possessed the strength in my legs and the determination in my heart to fully enjoy the cycling and adventure. Since making the decision, we have taken trips from 6 to 15 weeks; experiencing the sites, history and people of Australia, Ireland, France, Denmark, Germany, Austria and locally. We are always thinking ahead to our next trip and do not intend to stop any time soon.
Over the years, I have seen my body change; tightening skin and swelling of my hands are causing my fingers to permanently curl; my face is so tight it restricts me from opening my mouth, requiring me to cut my food into very small pieces; reduced elasticity of my esophagus is making it more difficult to swallow and resulting in severe acid reflux; scar tissue forming in my lungs has reduced my breathing capacity. With the overall tightness of my skin, I feel like a size medium body in a size small skin.
I have spent many years trying alternative health care options, continuing exercise programs and staying positive. Like most people with this disease, taking medication becomes a big part of our lives. I can't imagine the quality of life I would have without them.
What I can tell you is; this disease has given me (us) a wakeup call. We all need to keep healthy and participate in life. That I am still able to ride our tandem and see the world, while getting in the ever-important exercise for my overall health is demonstrating my control over my destiny. Every day I am so thankful for David's love and support; and the support of family, friends and my medical support team (family doctor, physical trainer, chiropractor, massage therapist, physiotherapist, rheumatologist, gastroenterologist and podiatrist).
I think that I have become a better person through this experience and realize just how fragile life is. And, every day I'm reminded that I have both Raynaud's and Scleroderma.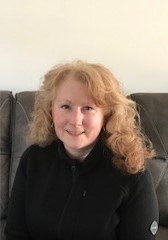 I would like to tell you all a little bit about the story of my Scleroderma journey and diagnosis. I was diagnosed 7 years ago after a few years of questioning and trying to figure out what was happening to my body. In 2009, I was living my typical active life doing all the outdoor activities, sports and coaching, things that I loved to do. Then, out of nowhere, my symptoms started with some unexplained muscle and joint pains, fingers and toes going white and being out of breath.
I spent several years going to specialist's appointments and trying to self-diagnose and heal myself with physiotherapy, chiropractors, acupuncture and much more. I started to think that everything I was experiencing was all in my head. No one could physically see the pain I was in because it was all inside my body. This was very difficult to explain. Finally, in 2011 after one blood test, I was diagnosed with Scleroderma. This blood test proved that I had an overlap of syndromes, which was characterized as a mixed connective tissue disorder.
Once diagnosed, I was referred to see a specialist in Vancouver, who specialized in Scleroderma. My first visit with Dr. Dunne was a blur; I just couldn't wrap my head around the diagnosis. How did this happen? What did I do? I remember travelling back to Valemount and my husband and I looked at one another asking "What the heck is Scleroderma?" I was so scared; wondering how long was my life span? What am I going to tell my daughter… my family?
This is my life with Scleroderma. I live with GERD, Raynaud's syndrome, Dermatomyositis, SLE, Sjogrens syndrome and Rheumatoid arthritis. My daily challenges living with this disease vary from day to day. It is very frustrating, since I am a "control freak", not knowing what the day will look like! With every syndrome there are medications to take. I used to hate taking medications and now I need to take them to manage symptoms and pain. No matter how I feel, I put a smile on my face, go for a walk, breathe in the fresh air and am thankful.
So, after several years of family, friends and co-workers asking, "what is Scleroderma?", I was inspired to start a walk here in Valemount. The goal of my walk is to raise awareness about Scleroderma by spreading the word and to raise funds for research. We need to find a cure for all of us fighting this rare disease.
With continued support from my family, friends and the community of Valemount, we will be hosting our 3rd Annual walk on June 29th. Please join us!
Teressa
I was diagnosed with systemic scleroderma in 2001. I have some early interstitial involvement in my lungs that has been stable for several years. My GERD symptoms are manageable. I'm really thankful to my naturopath for keeping finger ulcers under control with homeopathy and herbs.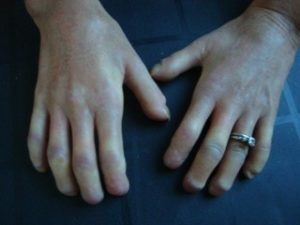 Chronic fatigue is a big challenge and on-going balancing act. Raynauds is very limiting as well. Despite that, I have a high quality of life living in the Yukon. Daily life takes a lot of effort but the love and support that I receive from family, friends and community as well as opportunities to be creative make life beautiful. Singing is not only good exercise for my lungs, it is a way of expressing myself and sharing my experience with others. To hear some of my music, visit www.NicoleEdwardsMusic.com
DISCOVER OUR WEBSITE