Scleroderma – Educational Speaker Series
Mental Health and Scleroderma
An Emotional Journey
Tuesday, February 15th at 7 – 8 pm, PST
You are invited to join the Scleroderma Association of B.C. for a conversation about mental health and the emotional challenges of living with scleroderma. 
This free online seminar and discussion will be facilitated by Dr. Elaine Roth of Elaine Roth Counseling.
---
If the saying is "a picture says a thousand words", then a recorded video must really speak volumes. But who needs a thousand when just tow will do?
Click here to check out St. Paul's Foundation Thank-You video to all of us who support the good work the group does there for scleroderma patients, the scleroderma clinic and the SABC research program.
If you were not able to attend the 2021 SABC AGM and Conference check out the videos.
Watch the  2021 conference Lung Transplant Panel with Dr.  Jennifer Wilson, Mandeep Dhindsa RN and three double lung transplant patients, Beth Miller, Cecille Soriano and Kathryn O'Neil
Watch the SPIN update with Dr. Brett Thombs.
---
CLICK HERE to find out what the BC CDC is saying about the 3rd dose for scleroderma patients.
---
Watch the interview with Dr. Brett Thombs talking to SABC board member Beth Miller.
Check out this short interview with Dr Brett Thombs, founder and director of the Scleroderma Patient-Centred Intervention Network, aka SPIN. Based in Montréal but with experts and participants worldwide, SPIN conducts research and offers programs designed to improve the quality of life of people living with scleroderma. SABC is proud to provide financial support to the SPIN program. For those interested in getting involved or finding out more, please email spingeneral@gmail.com.
---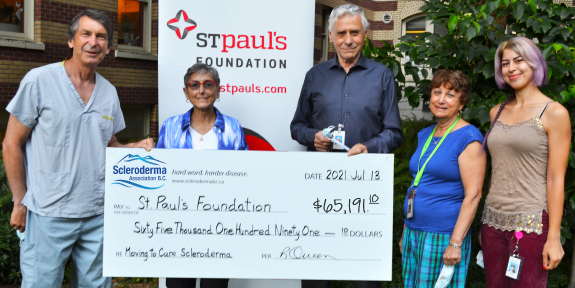 Dr. Wilcox, Rosanne Queen, Dr. James Dunne, Fran Schooley, Basak Sahin
Scleroderma Awareness Month has been a great success!
 
The "Moving to Cure Scleroderma" campaign has been a tremendous success.

CLICK HERE to see the video of the participants from across the province showing their support.

The continuing support from you allows patient driven funding to this important research. This is how the job gets done; it takes all of us.
 
The opportunity to support the campaign is still available
CLICK HERE
to support SABC research.
Thank you to

 
---
---
What is Scleroderma?
Scleroderma (systemic sclerosis or SSc) is a largely misunderstood chronic disease affecting about approximately 22,000 Canadian and five to six times more women than men are affected by this disease.
Scleroderma is an autoimmune disease, a condition in which a person's immune system turns against itself by producing antibodies that attack its own tissues (i.e. autoantibodies).
This disease is derived from the Greek words "skleros" (hard) and "derma" (skin) and is characterized by progressive skin hardening.
Nicknamed "the disease that mummifies" scleroderma is diagnosed in thousands of Canadians. It is characterized by an overproduction of collagen and damage to the blood vessels that causes excessive scarring within the various organs.  This imbalance leads to a hardening of the skin (fibrosis) and an alteration of the affected organs. Moreover, in most cases, scleroderma limits the motor skills and dexterity of those affected and causes great physical and psychological suffering since it produces disfiguring appearance-related changes.  Read more
---
Every donation counts

With your support, we can fight scleroderma!

---

---
Last updated : 2021 April 24
---