Immunoregulation lab at CRCHUM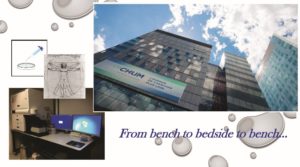 By Heena Mehta, Ph.D, and Marika Sarfati, MD Ph.D
The "initial trigger" for scleroderma is still unknown, but it is now thought to be an "insult" to the immune system leading to dysregulation of immune pathways, and the cascade of events that lead to clinical manifestations. Key interests of the research team at CRCHUM (Research Center of the University of Montreal Health Centre) include study of immune cell populations such as T cells, and dendritic cells, which are the sentinels of the body's defence system, as well as their interactions at barrier sites such as skin, lungs, and gut. In recent years, the rapid advancement of technology available to immunologists to study cells in affected tissues at a single-cell level, and concomitant development of tools for analysis of high-dimensional data make it an exciting time to be studying the immunopathology of scleroderma. Here, we highlight some milestones we have reached with generous support from various scleroderma associations in Canada including Sclérodermie Québec, Scleroderma Society of Ontario, and Scleroderma Society of Canada.
Milestones
January 2011: Pilot grant from Sclérodermie Québec .
November 2011: Experiments initiated to develop a small animal model (mouse) that mimics diffuse cutaneous scleroderma using autologous (self) dendritic cells and peptides from topoisomerase protein, a known scleroderma autoantigen.
2012-2016: Student fellowships from the Scleroderma Research Chair (Dr. Jean-Luc Senécal).
August 2015: Received a federal research grant from the Canadian Institutes of Health Research .
2016-2017: Publication of peer-reviewed articles; report of animal model displaying diffuse skin, and lung fibrosis as well as anti-TopoI autoantibodies1, proof-of-concept study with dabigatran (a direct thrombin inhibitor) demonstrating the need for caution when using this drug in scleroderma patients2, and establishing a link between early-life gut dysbiosis, and skin and lung fibrosis3,4.
October 2018: Acquisition of BD FACSymphony at the CRCHUM with support from Sclérodermie Québec and Canadian Foundation for Innovation.
Future directions
The continued commitment to research for this orphan disease with unmet medical needs brings us closer to fulfilling the promise of personalized medicine for patients. Since inflammation precedes fibrosis, the immune system is central to the disease process. With the insights we gained from our animal model studies, we are now very excited to explore immune pathways in affected tissues of patients with different forms of scleroderma. Recent acquisition of cutting-edge instrumentation, the BD FACSymphony, will enable us to comprehensively study the immune profile in blood and at barrier tissues. This single-cell level analysis that was not possible before, would require only limited amount of blood and small skin biopsies. Establishing a link between different clinical presentations of scleroderma and the immune landscape at a given timepoint of the disease will open the doors for identifying new immune therapeutic targets and novel clinical management strategies. Partnership between patients, basic science researchers, clinicians, and generous support from organizations and individuals will be crucial to improve scleroderma patients, and ultimately find a cure for this devastating disease.
References
⬆️