Faces of hope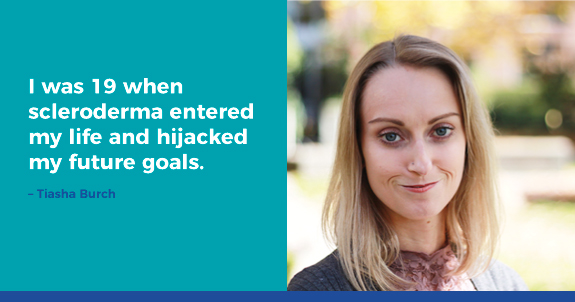 I spent a few years being angry with my body, grieving the future I had dreamed for myself, and feeling isolated, even when I was surrounded by people who loved me but could never truly grasp the degree to which my life was changing. It happened so quickly. I went from developing a pre-professional dance career to having limited capacity for sustained movement within a few weeks.
With a history of joint issues, I was easily misdiagnosed and treated for rheumatoid arthritis. The prescription cocktails I had tried, however, were not preventing the skin on my hands, arms, chest, and face from tightening. The chronic fatigue and pain were beyond any physical discomfort I had ever experienced before. After a few years of struggling to develop an effective treatment plan, I was accurately diagnosed with scleroderma and learned that the symptoms I had been experiencing in my extremities were typical of Raynaud's Syndrome. However, it would still be a few years before finding health care professionals willing to work with me and for me.   
Changing Perspective
No longer able to pursue dancing as a career, my attention shifted towards wanting to help others like myself find ways of moving without pain. The human body has always fascinated me, so I chose to study kinesiology. While beginning my undergraduate degree, I had begun to establish a community of health professionals that influenced my drive for a deeper understanding of what enables health and well-being. I experimented with holistic practices and found adaptations for my life style that helped me heal while still trying to find medications that would fix more problems than they created. When I located a rheumatologist, who included a holistic view of health into her practice, I finally established a complete "tool kit" for managing Scleroderma that included medications that were preventative.
My frustrations navigating the health care system, and the impact social inequalities have on accessing treatments, fueled my desire to break down barriers to well-being for others. At nearly the end of my Kinesiology degree I chose instead to complete a bachelor's degree in Health Sciences at Simon Fraser University with a minor in Political Sciences. I realized that, had I not found health professionals who had affordable services and who were willing to hear my perspective as a patient, the struggle to complete my post-secondary education would have been defeating. Regardless of your physical abilities, these milestone achievements should be accessible to everyone and advocacy seems like the best way to make that a reality. 
Directing My Desire to Do Something About It
Since discovering the Scleroderma Association of B.C. my quality of life has improved.  I have connected with a community of people that are resilient and have witnessed their power to accomplish amazing things together. Supporting Canadian research initiatives that aim to develop new diagnostic and treatment options, raising awareness within our communities, and sharing information with patients and their families that assist in improving well-being are goals we continue to achieve. Most importantly, there is a constantly growing network of support for those of us who are affected by this intimidating autoimmune disease.
It has taken a decade to come to terms with my physical limitations and the uncertainty of my future, but I've chosen to not let scleroderma control my life. I have recently been married, begun a new career, and started dancing again – all milestones I did not imagine would happen for me ten years ago. Scleroderma does not define who I am, but it does contribute to the perspective from which I see the world and function within it. Through my role within the Scleroderma Association of B.C., I will continue harnessing my experiences and knowledge to bring social awareness, justice, and support to our community.   
Tiasha Burch
February 2019
⬆️