Faces of hope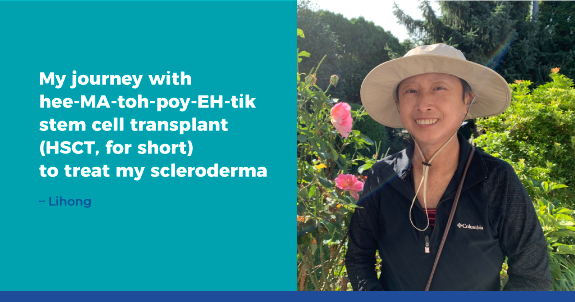 Sadly, Lihong lost the battle with scleroderma on January 4th, 2023. She was a strong scleroderma warrior that will be remembered for her smile and determination.
My name is Lihong Yang, I live in Richmond B.C. and this is the story of my journey with hematopoietic (hee-MA-toh-poy-EH-tik) stem cell transplant (HSCT, for short) to treat my scleroderma.  Hematopoietic stem cells are immature cells found in your body's blood and bone marrow. These cells can develop into all types of blood cells including white blood cells, red blood cells and platelets.
In March of 2019, I was diagnosed with systemic diffuse scleroderma. Questions I asked myself were: How do I face my uncertain future? How long can I live? When will be the time to say goodbye to my family and friends, and the job I love?  I remember feeling broken down at that time, both emotionally and physically. My life became overrun by this disease.
I took the medication Methotrexate® for 3 months but it did not work for me. The stiffness and pain in my joints and muscles were getting worse.  As my lungs were also getting worse, the doctor then suggested I try mycophenolate mofetil (CellCept®) to slow down the lung progression. After I had taken this medication for more than 3 months, it seemed to be working, as the skin on my hands became softer and thinner. In the meantime, my acid reflux was getting worse and worse. I had to sit or walk to stay up until midnight before I could sleep. My swallowing was becoming a very serious issue too.
I had to remind myself that there is always hope when we think positively. I joined the SABC's June fundraising program. When I read patient stories and see the people who are fighting the same disease, I am inspired.
In January 2020 I had an appointment at the Scleroderma Clinic at St. Paul's Hospital. The doctor asked me about my health history and I told him before I got this disease, I was very healthy. I had joined the Vancouver Sun Run 4 times, did a lot of hiking and I don't smoke or drink. The doctor said I was still young and although my lung CT showed lung involvement, my kidneys and heart were ok. He said this disease was developing so aggressively and suggested I think about doing HSCT.
Following the doctor's suggestions, I did some of my own research and decided to do the stem cell transplant. Despite him telling me of the possible bad results with HSCT, I knew I had to be brave to fight this disease. I tried to only think of the good results.
Because of the COVID-19 pandemic, the starting of the stem cell transplant process was delayed half a year. When I did go to the Tom Baker Cancer Centre in Calgary for the HSCT pre-tests, the doctor told me that now my heart was involved and I no longer qualified for the transplant. I was so disappointed. I expressed my strong desire to go ahead with the transplant because I think this is the only chance to possibly improve my quality of life. When I was back home, the doctor called me. He had discussed my situation with the heart specialist. It was decided that my heart was in an early stage of involvement and if I really did want to do it, he would do it for me, but I had to accept an even higher rate of risk of mortality. 
On January 5, 2021, my husband drove me back to Calgary. On January 20th, my stem cells were collected in the hospital and my long hospital stay started on February 3rd. I did not have much more time to think while I received two days of radiation treatments. These two days I was okay. I could walk and I could eat. Then I had three days of chemotherapy. During this treatment I was tired, sometimes felt dizzy and nauseous. I had little appetite.
On February 9th the doctor put my stem cells back into my body. They marked that day as my new birthday. My life had been renewed and I was so excited! But the worst was not over yet. Five days later my white cell count dropped down to zero and my red blood cell and blood platelet counts dropped to very low. I did not have any energy except to lie down on the hospital bed. Nurses helped me to the bathroom. I did not want to eat anything. The doctor and nurses encouraged me to keep going.
After those worst days, I started to feel better day by day. I was recovering slowly, thanks to my medical team. They made me feel like a family member. On February 28th I was discharged from the hospital, but not yet to home. I still needed to be regularly checked by the hospital's doctor. I stayed in Calgary 2 more months until May 1, 2021.
Back in Richmond now I walk 7000 steps every day. I am very grateful I can do this exercise again. Some of my skin has become softer, and my knees can bend more. I can walk up and down stairs. I don't have heartburn. I feel much better.
I know everybody has a different life with scleroderma. For my life, I have to stay positive and active.
I am so grateful that I had the stem cell transplant. I thank my family and friends for their support and I thank you for reading my story.
⬆️