Faces of hope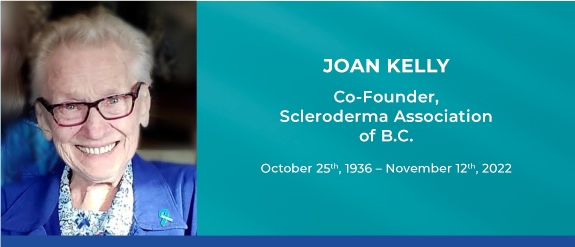 In her early 50's, following a grueling 12-year struggle to find an answer, Joan was diagnosed with the rare, incurable autoimmune disease Scleroderma. With the information that was known at that time, she was given just a few years to live. As any newly diagnosed person would do, she sought more information. Finding next to none in BC or indeed Canada, she reached out to the newly formed Scleroderma Foundation in Chicago, which provided her with information. Joan took their inspiration and decided she would make a difference in the time she was told she had. She approached her rheumatologist, asking that he give her number to the few others he had diagnosed and asking them to contact her.
So it was that in 1982, with four other women and just $17 from their purses, they undertook the formation of the Scleroderma Association of B.C., which formally launched in 1984 with a mission to provide outreach and peer support, raise awareness and encourage research. In those first years, they contacted rheumatologists to let patients know of their existence, created BC-based printed material, held support group meetings, created a phone tree for peer support and more. Together with her supportive husband Bill Kelly, who predeceased Joan in 2010, they converted a hallway closet to a small office. There she became the friendly voice answering the help line, editing newsletters, sending birthday cards to members and thank you cards to donors, hospital visiting, organizing annual meetings and fundraisers. Joan particularly appreciated the work of the SABC's Community Reps in their willingness to reach out to others around BC. In later years, Joan played a key role in advocating for the creation and equipping of the Scleroderma Clinic at St. Paul's Hospital, the only of its kind in BC. When her brother, Bob Buzza, played a key role in the formation of Scleroderma Society of Canada, no sister could have been prouder. Together, she and Bob wrote a letter of support for the initial funding of SPIN (The Scleroderma Patient-Centered Intervention Network) which has gone on to improve the lives of scleroderma patients in Canada and around the world. And in recent years, the formation and efforts of the SABC Research Program and their work to find a cure gave Joan hope that others will have an easier journey.
To speak to Joan, few would have known the difficulties she faced with her heart, lungs, GI tract, Raynaud's, calcinosis and more. She was deeply grateful for the care she received at the Clinic. In later years, Joan's journey was complicated by dementia, but her gentle spirit always shone through.
Joan touched hundreds of lives as she devoted herself to SABC's members for 30 years, but she would be the first to say that her life was touched by theirs. Now, as the all-volunteer registered charity Scleroderma Association of B.C. approaches 40 years, its mission remains steadfast. Education and outreach remain vital. Research progresses but there is still no cure. Joan will be missed by all who knew her, but her legacy will remain.
⬆️