Support in your community >
Jen's Story >
Faces of Hope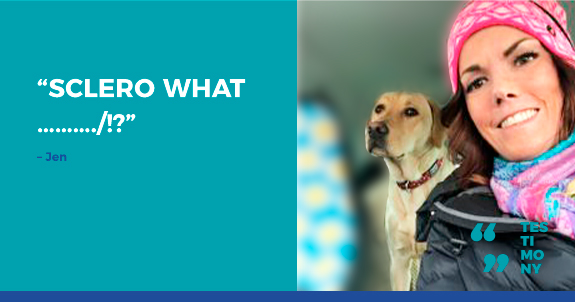 I remember very well the day I had met with my local rheumatologist at the hospital for a follow up exam after several months of tests.  He said, "Jen I believe you have an autoimmune disease called Scleroderma."
" Ok." I said.  " What does the treatment plan look like?"  I was familiar with autoimmune diseases as they ran in my family.  I had also been living with and managing hypothyroidism for many years.  I figured like other conditions there must be a reasonable treatment option.  No problem.  I've got this.  Little did I know the storm had just began and I was about to enter the fight of my life.
Let's rewind the clock back to 45 years prior to my diagnosis of Systemic Diffuse Scleroderma in 2016.  I  was a competitive, national calibre athlete and held provincial records x-country running, skiing, biathlon and track.  I had completed many half and full marathons.  My body was a fine oiled machine that was ready for all my physical challenges and dreams.  An average day for me consisted of a full working day, training for a race, teaching fitness classes and walking my dogs.  I worked for 25 years as a Community Inclusion Worker serving and supporting adults with disabilities, so I was no stranger to adversity and advocacy.   My life's mantra was all about compassion, integrity and empathy.  I knew that through all my experiences as an athlete and supporting others that everything was possible with determination and a positive attitude.
In 2012 after completing a half marathon I noticed that my feet became sore after my runs.  I chalked it up too many years of running on the pavement and likely arthritis.  I had also had a couple disks in my cervical  spine that had become problematic and required surgery.
 Fast forward to the spring of 2015.  I under went cervical spine fusion surgery at C 5-6 vertebrate.  I left the hospital with brand new titanium parts and an arduous recovery, but life was good.  Soon I would be back to work and, in a year, running again.   Six months post surgery on a beautiful news years eve day I went for a snow shoe with my dogs. I was so excited and had a lot to celebrate this year.  I noticed that my occasional episodes of one finger Primary Raynaud's had turned into all fingers on both hands after my snow shoe.  They were completely white and numb.  I thought it was probably related to my recent c-spine surgery.  Later that night I clearly remember waking up in the middle of the night with throbbing hands.  I woke up my partner and said, "There's something wrong with my hands." Eventually the pain subsided, and I fell back to sleep.  Later the next day my fingers turned black and blue.  I called the nurses hotline and she concluded that it was typical symptoms for frost bite, but I should see a doctor for follow up.
Within weeks after these noticing's my body began changing dramatically. My skin was turning purple and blotchy.  Both my fingers and feet started swelling.  Every step I took it felt as if I were walking on sharp j broken pieces of glass.  Fatigue and brain fog followed me around  the house like a haunted ghost.  I knew at this point something was seriously wrong.  I had made several appointments with my GP but was too weak to physically get there.  I had gone from running marathons to becoming short of breath walking up my basement stairs.  After seeing my doctor and many blood work tests later my antinuclear antibody (ANA) test came back positive.  My symptoms were not the result of my c-spine surgery or anything neurological, but my neurologist concluded I had the worst Raynaud's he'd seen in 30 years of practice.
So, this brings me back to the beginning of my story.  "SCLERO WHAT ?"   I knew from the reading I had done that 95% of patients with scleroderma have elevated ANA in their blood stream.  Was it true that I had Diffuse Scleroderma? Or was this all just a bad dream?  After leaving the hospital and receiving the diagnosis I drove around for hours trying to process all of this.  I came home that night and began the google search.  Everything I read about was frightening and predicted a five year survival rate.  I went to bed cried most of the night and repeated this cycle for two months.  How was I going to do this?  Who was I without my old life? Did I do something to bring on this disease?  Should I begin a bucket list and prepare myself for a five year death sentence?  I had fibrosis in the bottom of both lungs and had to come to terms with the fact that I would probably never run again.  This was by far the darkest time in my young life.  I was paralyzed with fear and knew little of what lay ahead of me.
About two months after my diagnosis I read a story about a young girl's journey with scleroderma.  Although her experiences and challenges were difficult to read she seemed to rise above the darkness and find meaning in her life with scleroderma . She had started a website supporting others fighting this disease.   I was inspired by her and had a sense of hopefulness again.   I knew in an instant that I had to turn my own personal journey of scleroderma around.  I began to read about an organization called Scleroderma BC.  I called the number on the website and had the pleasure of speaking with an incredible man.  He took time to listen to me and answer all my panicked questions. He shared information with me about scleroderma and connected me to an area representative with Scleroderma BC in Kamloops.  He offered comforting words of support and compassion.  I suddenly realized I was not alone in this journey of scleroderma. There was a community out there who truly understood scleroderma and all it's prickly thorns.  My scleroderma journey changed that day and I am forever grateful for that conversation. I connected with the area representative  in Kamloops.  She had been living with scleroderma for 30 plus years and really offered support in many ways.  It was wonderful to connect and have conversations about a disease that was so rare and complex.  I was also very fortunate to connect with two other ladies living with scleroderma through our mutual pharmacists.  We meet up regularly to support one another and have all become quite good friends.
I still had a lot to learn about this disease and embraced all the learning opportunities that came my way.  I attended the scleroderma BC annual conference and met up with so many wonderful people.  I went on later that year to the national conference in Calgary. I was very fortunate to meet more doctors who specialized in specific areas and treatments for scleroderma. I connected with a patient support group called SPIN (Scleroderma Patient Intervention Network) and enjoyed networking with the real scleroderma experts who lived with this disease everyday.   One of the highlights of the conference was having one of my dearest friends join and support me.  I couldn't be happier leaning into all these amazing opportunities and fresh perspectives.    At this point I knew that in my own journey it was important to give back to others newly diagnosed with scleroderma.  I wanted to shout out messages of remarkable  courage. To let others know that it was normal to feel what they were feeling and that the grieving process was very real.  To help others realize they were much stronger then they could ever imagine for fighting this disease.  Mostly, to take a deep breath in and fill your lungs with hope.  All these messages have  inspired me to become an area representative in my own community.  It was my turn to give back as others had generously had done for me. I have also  had an incredible opportunity to work alongside a dedicated team of researchers based out of UBC as a patient liaison for stem cell transplants for people living with scleroderma.  Although this opportunity was out of my comfort zone I realized the value we all had to offer one other despite our very different roles.
I have come to know that living with scleroderma is not for the faint hearted.  In fact, I have never met a braver group of true warriors in my entire life.  Words like pulmonary fibrosis, GERD, Raynaud's phenomenon,  acid reflux, renal crisis, skin thickening, calcinosis, hypertension, blood panel, right heart, tendon rubs, hemoglobin, dry eyes/mouth, anemia are just some of the words that occupy our conversations on an idle Tuesday.  What I also know is that there are words like courage, compassion, resiliency, strength, inspiration, empathy, hopeful, capable, determination and survival that propel us forward in our daily journeys with scleroderma.
Three years ago I wasn't sure what direction my life was headed after my scleroderma diagnosis  Fear clouded my spirit.  Hopefulness was just a flicker in a vast dark sky.  Today I am hopeful and stronger then I could ever imagine.  I won't pretend to say that I still don't worry about what lays ahead for me with scleroderma.  I still have days that challenge my soul and test my mental strength. But I know I am surrounded by and skilled and compassionate medical team.  A family who love and support me.  My four legged companions.  Friends that fill my cup with on the days I can't.  A community of brave Scleroderma warriors who have taught me everything I need to know in these unchartered waters of this rare disease called Scleroderma.  Lastly, my all time fav Rocky Balboa (lol)  This is not how I envisioned my life but none of us ever know how it will go.  I have some wise words from the late Gord Downie  on my fridge that inspire me every day and they go like this:  "We must embrace what we can not change."  We are all so much more then Scleroderma.
 I prove that to myself everyday by taking on new challenges the lite up my soul.  I may not be able to physically  run another marathon, but I hiked up to the top of Grizzly mountain at 3000ft elevation gain in Tombstone Territorial Park in the Yukon this past summer!  As we past other hikers I asked how the view was from the top.  They said; It's spectacular but you have to work for it."  It can be done.  Even with scleroderma.
Although we can not change our diagnosis we can change our perspectives in moving forward.  So if you have been thrown and unexpected scleroderma curve ball it is up to you to grab it grip it, grip it and throw it back as hard as you can.  Let gratitude lead let way.
"It is not our bodies that define us. It is our spirit that does."  Janie Sheperd
Jen Beckett
2019 October