Groupes de recherche >
Dr. Mervyn Gornitsky Biography >
Dr. Mervyn Gornitsky Biography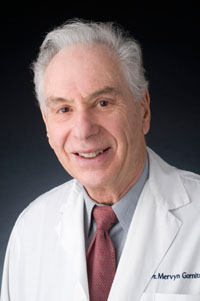 Research Director, Department of Dentistry, Jewish General Hospital
Chief Emeritus, Department of Dentistry, Jewish General Hospital
Professor Emeritus, Faculty of Dentistry, McGill University
Dr. Gornitsky's Publications Indexed on PubMed
Dr. Mervyn Gornitsky is Research Director of the Department of Dentistry at the Jewish General Hospital. He is a Professor Emeritus at McGill University, Faculty of Dentistry, and Chief Emeritus of the Department of Dentistry at the Jewish General Hospital. Dr. Gornitsky's distinguished careers in academic dentistry and oral and maxillofacial surgery have spanned over 50 years. He has contributed more than anyone in Canada to the development of departments of dentistry in Canadian hospitals. He was chair of the Hospital Dental Services Committee for Quebec for 15 years and Chair of the Council on Hospital Dental Services for the Canadian Dental Association for six years. 
Dr. Gornitsky was granted a fellowship at the inception of the examination by the Royal College of Dentists of Canada in Oral and Maxillofacial Surgery in 1967. He is a fellow of the American College of Dentists, the International College of Dentists, L'Academie dentaire du Quebec, and a member of the Pierre Fauchard Academy. 
Major Research Activities
Dr. Gornitsky is the director of the JGH Databank for Saliva Specimens, located at the LDI. Currently his research themes focus on the discovery of salivary biomarkers in Parkinson's disease and other neurological conditions, and the biomarkers and treatment of painful temporomandibular disorders and sleep apnea.
In the past, Dr. Gornitsky's team has completed epidemiologic studies associated with facial pain and bruxism, periodontal diseases in HIV positive and AIDS patients, xerostomia in patients undergoing radiotherapy for head and neck cancer, as well as the effects of oxidative stress on saliva. The latter focused on oxidative damage to lipids, proteins and DNA, in addition to total oxidative capacity as markers for various diseases, such as periodontitis, scleroderma, diabetes, Alzheimer's disease, and breast cancer. 
Recent Publications

Song W, Kothari V, Velly A, Cressati M, Liberman A, Gornitsky M, Schipper HM. "Evaluation of Salivary Heme Oxygenase-1 as a Potential Biomarker of Early Parkinson's Disease." Movement Disorders. Accepted December 22, 2017.
Baron M, Hudson M, Dagenais M, Macdonald D, Gyger G, El SayeghT, Pope J, Fontaine A, Masetto A, Matthews D, Sutton E, Thie N, Jones N, Copete M, Kolbinson D, Markland J, Nogueira-Filho G, Robinson D, Fritzler M, Wang M, Gornitsky M. "Relationship Between Disease Characteristics and Oral Radiologic Findings in Systemic Sclerosis: Results From a Canadian Oral Health Study." Arthritis Care & Research. 2016 May:68(5):673-680.
Gornitsky M, Velly AM, Mohit S, Almajed M, Su H, Panasci L, Schipper HM. "Altered Levels of Salivary 8-oxo-7-hydrodeoxyguanosine in Breast Cancer." JDR Clinical & Translational Research. 2016 April;1:171-177. doi: 10.1177/2380084416642197.
Wang J, Schipper HM, Velly AM, Mohit S, Gornitsky M. "Salivary Biomarkers of Oxidative Stress: a Critical Review". Free Radical Biology and Medicine 2015; 85:95–104 (Corresponding author).
⬆️