Faces of hope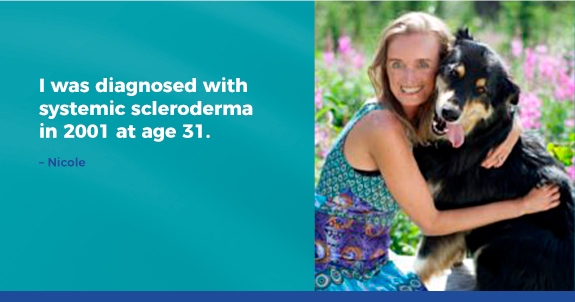 Sadly we lost Nicole on September 8th 2021, but she continues to shine brightly in our lives with her everlasting gift of music. For those wishing to keep enjoying Nicole's music, please visit nicoleedwardsmisic.com and share her music with your family and friends as it was Nicole's wish her music remain accessible to all.
I was diagnosed with systemic scleroderma in 2001 at age 31. I have some early interstitial involvement in my lungs that became stable after a few years. My GERD symptoms are manageable. Chronic fatigue has been a big challenge and an on-going balancing act. Raynaud's was my first diagnosis, in 1999 and can be very limiting. The amount of pain in my life was reduced dramatically when I started using laser therapy (theralase.com) to heal problematic finger ulcers. I also love my re-chargeable battery-operated heated jacket and gloves. Chemical sensitivities and food sensitivities appeared and at some point. Hashimoto's thyroiditis and Sjogren's were added to the list. 
For 15 years I was able to manage my illness with a part time rewarding music vocation. I'm thankful for the many highlights and opportunities to be a 'Joy Seeker' (song title) as a Yukon-based singer-songwriter recording artist. In the Fall of 2016, I released my 5th CD: 'genre bender' and celebrated with a big dream concert at the Yukon Arts Centre. I have been fortunate to collaborate at my own pace with so many fabulous creative people (and even puppets!) on my recordings, videos and live performances! In October 2017 I celebrated my 20th anniversary of living in the Yukon with a special fundraising concert for 'Yukon Cares'. That show was my 'last hurrah'. My accumulative 'joy-seeking' eventually resulted in adrenal exhaustion, so I've been going from bed to couch to bed since. I have so much time to reflect now and I am very thankful I lived fully and took creative risks when I could.
Singing has not only been excellent exercise for my lungs, it is a way of expressing myself and sharing my experience with others. Music also creates ways to be playful…. and laughter is good medicine! It's very meaningful to me that my music can still be shared despite my dramatic loss of independence. Medical trauma and Post Traumatic Stress are now part of my vocabulary. My latest focus has become MINDFULNESS: an essential tool when living with loss, pain and fatigue. 
At my own pace, out of necessity, I find myself advocating for trauma-informed, patient-centred care. I feel strongly that more awareness, training and strategies are needed to address mental health struggles that often accompany chronic illness. 
Check out "Yukon Lullaby for Mental Health", a song I wrote as a calming tool for both patients and caregivers. The song is free and comes with a free mindfulness lesson plan. Find it on my website (see: Mindfulness)  
To hear my music, watch videos and more, visit: 
Bon courage to my fellow ScleroWarriors!
⬆️